You like to believe that people are good and no one is "out to get you." While this may be a good plan the majority of the time, it is important to be prepared and make sure you don't get taken advantage of when you are in the middle of home repairs. Home repairs can already get costly at times, but re-doing home repairs because a contractor scammed you? Well, that is as costly as it gets.
Here at A-1 Concrete Leveling and Foundation Repair, we aim to be your resource for concrete crack repair, foundation crack repair, a leaky basement, concrete foundation repair, and more. Our foundation repair company is the one you've been looking for because we can do it all! And we will start you out with a free quote to show you just how serious and professional we are. We take our job as foundation contractors in Nashville seriously, and we would be honored to help you with your next project. Keep reading to know what to watch out for when looking for foundation repair and then contact us today to get started with a free estimate and see if we're up to the task.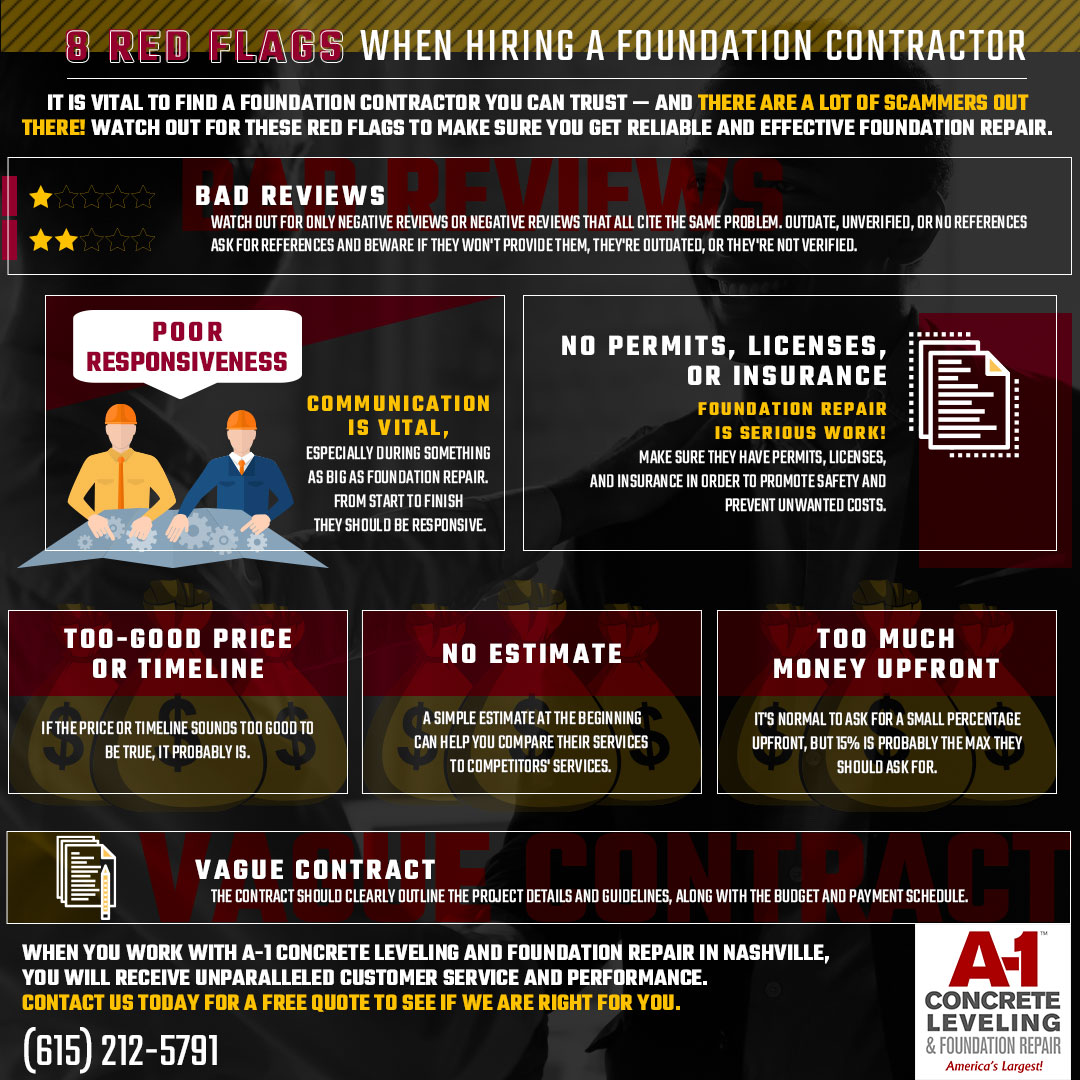 Bad Reviews
Just as with any business, one or two negative reviews is not necessarily a bad thing. There will always be disgruntled employees, no matter how good the business is. Many negative reviews or several reviews all citing the same problem, though? Well, that would be a warning sign right there. Check out reviews online; ask neighbors, friends, or family about who they have used for foundation repair; and just be sure to completely do your research before committing to a specific foundation contractor. 
The worst feeling after working with a bad foundation contractor is when you go to write a negative review online … only to find out there are already a handful of negative reviews!
Contract Without Details (or no contract at all)
Absolutely everything about your project should be worked out in a contract before you get started. Yes, changes may come up along the way once the foundation repair is started and different or increased problems are discovered; but your initial contract should be pretty all-encompassing. There should be project details and guidelines along with a budget and payment schedule:
Project Details and Guidelines:
Description of the project (scope of the work, who will be at the job site, what needs to be done, materials and equipment that will be used or bought, etc.)

Description of how to handle changes (if there are cancellations, unexpected issues, new work orders, etc.)

Description of timeline (estimated start and end date, stages for each project if it is large, etc.)
Budget and Payment Schedule:
Detailed estimate about the costs and how the overall cost breaks down

Detailed payment plan (generally a small percentage upfront and then paying for work as completed)
By getting all of this in writing ahead of time, you can know when plans change during foundation repair and what the exact cost of everything is. This will prevent a foundation contractor from scamming you or overcharging you at the end of the foundation repair.
Extreme Differences to Competitors
There's no doubt about it: everybody loves a good price. After all, you want to know that you are getting a good deal on foundation repair in Nashville. However, if the price and/or timeline seem too good to be true, then they may just be. Watch out for foundation contractors who overpromise and whose estimates for time or money are far lower than those of competitors. Foundation repair takes a certain amount of time and money, and if they're promising less than that then they may be lying or unqualified to do the work in the first place.
No Estimate
If they don't provide an estimate right away but you do walk away from a meeting with a contract in-hand, then you are most likely OK. Here at A-1 Concrete Leveling and Foundation Repair, though, we like to provide you with an estimate from the very beginning so that you know we are the right foundation repair company for you. When you first meet with us, we will provide you with a free estimate on your project. This is, of course, an estimate and is subject to change. With it, though, you can compare costs and services with other companies in the area and have a rough idea of what to expect on your foundation repair.
No Permits, Licenses, Insurance, etc.
Depending on your foundation repair or home repair project, permits can get expensive. If a potential foundation contractor says a permit is an unnecessary expense, then run the other direction! Likewise, if they don't have the correct licenses or insurance, then you're much better off finding an actual professional for foundation repair. In this business, permits, licenses, and insurance are a must to make sure everyone is safe and taken care of (and that you don't get hit with extra bills later on). 
Outdated, Unverified, or No References
When looking for a foundation contractor, it is always a good idea to ask for references. Sure, you can look at reviews online (and we certainly recommend this), but it is great to also talk to someone who has worked with that foundation repair company! Even better, try to talk to someone who has had the same type of work done on their home that you're looking for. 
Be wary if the references provided are out of date; this may mean that the foundation repair company hasn't done quality work recently.

Always verify that work was actually done for the references provided! A scammer can certainly provide you with the phone number of a friend who will sing them praises. You can verify easily by asking specific questions.

Finally, if a foundation repair company is not willing to provide you with references at all, then that is a definite red flag.
Poor Responsiveness
No matter the service you are looking for, communication is key. For lawyers, daycare providers, retailers, and just about any job out there, it pays to be responsive and communicative. When it comes to something like foundation repair, you want to be sure that your contractor will be available when you have questions or concerns. If you cannot seem to get ahold of them before work has started, then it most likely won't be any easier after work has started! This could mean they are either too busy to take on another project at this time or they simply have poor communication skills — and neither situation is one you want to be in with foundation repair.
Too Much Money Upfront
Finally, watch out for foundation repair companies that ask for too much money upfront. Your contract and estimate, as outlined earlier in this blog, should stipulate how much you pay and when. But if a foundation contractor asks for more than 15% of the total cost upfront, then this could be a serious warning sign. If you're unsure whether they're asking too much or not, call some other foundation repair companies and see how much they ask for upfront.
Meet With a Foundation Contractor in Nashville Today
Stop searching "how to repair cracks in concrete" or looking for "foundation repair near me." You have found all that and more in A-1 Concrete Leveling and Foundation Repair. 
Our foundation contractors are timely, efficient, professional, and detail-oriented; our prices are transparent, affordable, and fair; and our services are unparalleled. When you need foundation repair in Nashville, we hope you think of us! Schedule a free consultation today for foundation repair in Nashville and see if we measure up to everything outlined in this blog. We look forward to working with you on business or home foundation repair.